Our top five strawberry recipes
If your looking for some different recipes to take advantage of the great offers on strawberries, we have used our imagination and come up with some twists on some of the classics to inspire you.
Strawberry Mille feuille Gateau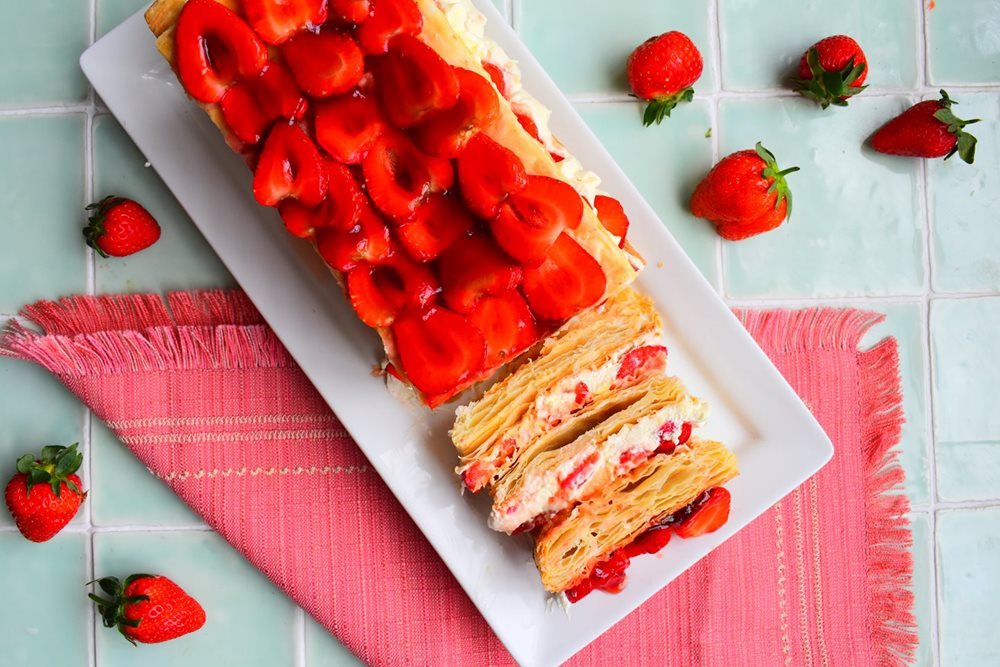 If you're using some great tasting strawberries then you want to use a recipe that seriously compliments those delicious berries. So why not have a go at our strawberry mille feuille. A mille feuille gateau is incredibly simple but looks amazing. It's perfect for entertaining friends or just impressing the family. Layers of sliced strawberries stacked with whipped cream and puff pastry, with a simple twist to this classic a redcurrant glaze. Baked and prepared in less than half an hour. We recommend using a variety of strawberries that are sweet and perfumed such as Solero strawberries. A great alternative to the traditional strawberries and cream.
Strawberry & Passionfruit Cupcakes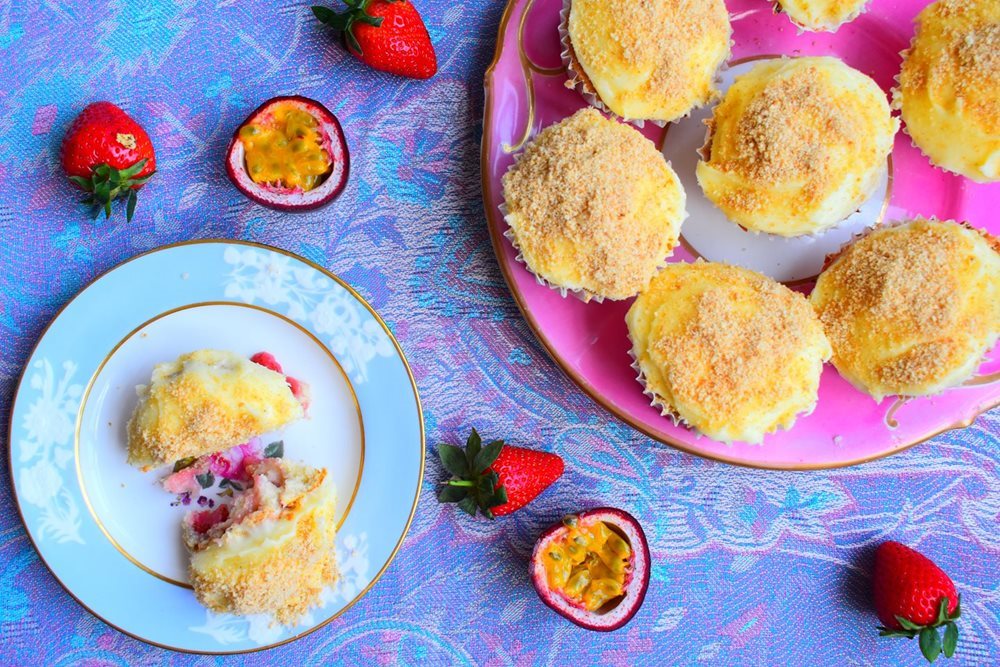 If you have a few strawberries left over then the strawberry cupcakes are perfect. Each cupcake contains an individual chopped strawberry encased in a vanilla sponge and then topped with a passion fruit cream cheese to cut through the sweetness a little. This recipe is really good with strawberries that have a slightly sharp taste such as Sonata strawberries, as this compliments the sweet cupcake topping. This recipe is also really good to cook with children, and they will enjoy eating the result!
Strawberry Mascarpone Tart with Chocolate Pastry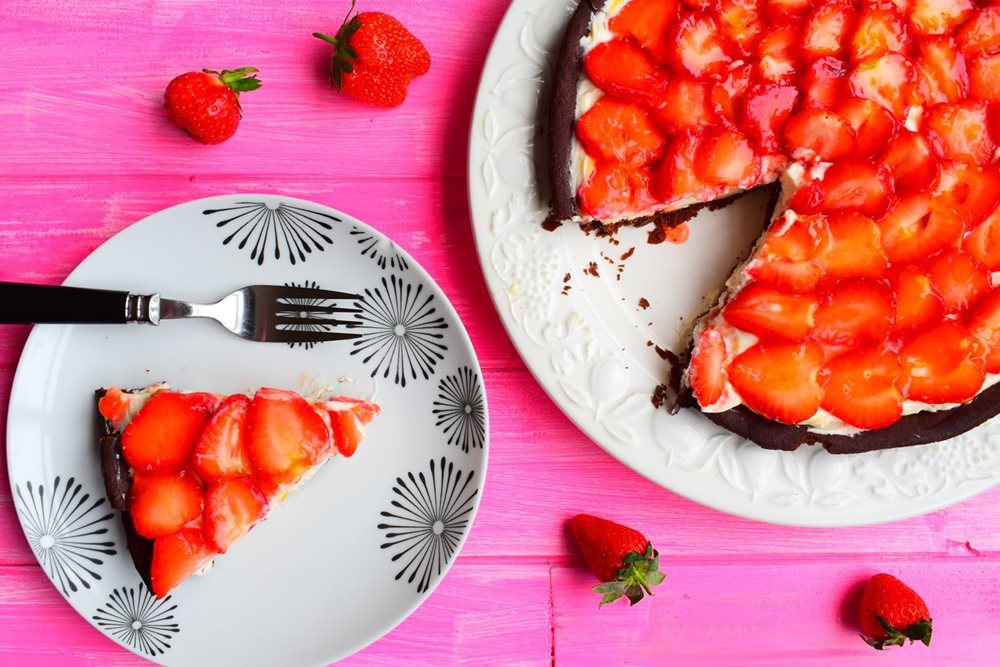 If you have a little time to spare and you're are looking for a dinner party dessert then this strawberry tart is ideal. The chocolate pastry case can be made in advance, and then the simple mascarpone and honey filling can be made on the day. The tart is topped with sliced strawberries glazed with apricot jam. This recipe needs a strongly perfumed and sweet strawberry such as the Solero strawberry. The strawberry and mascarpone tart will be a hit at any dinner with friends.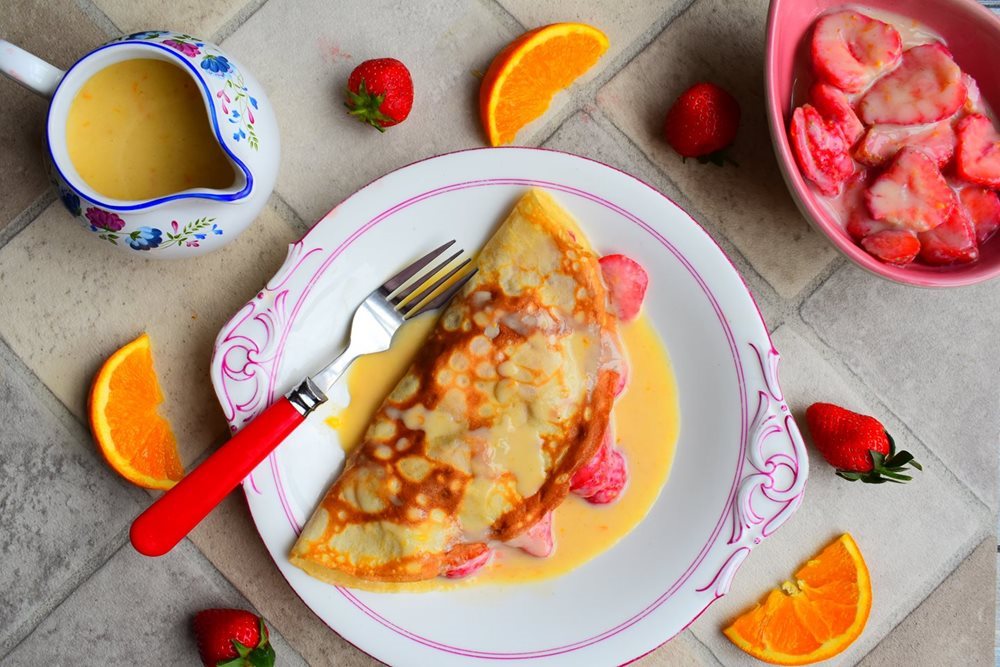 The fresh dessert is quick to cook and a really original and unusual way to enjoy fresh strawberries. A simple freshly made orange custard, mixed with sliced strawberries, placed inside a crispy pancake and covered in additional orange custard sauce. This recipe can use any sweet strawberry we would recommend using a popular variety such as the Malling Centenary. This dessert has a really fresh taste to it and is usually served warm.
Strawberry & Rhubarb Crumble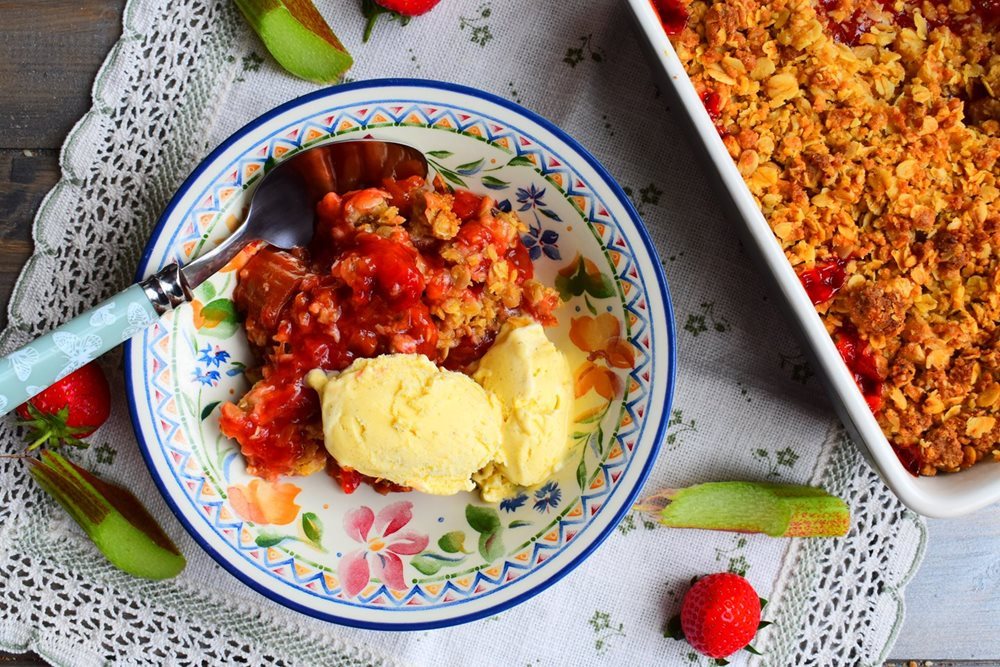 This crumble is perfect for those chillier late summer evenings. The crumble filling is a mixture of strawberries and rhubarb stewed together with apple juice and brown sugar. We would recommend making double the filling and sticking it in the freezer for a touch of summer on those long winter nights. The oat based crumble adds an extra chewy quality to the topping, with an extra hit of warmth from the ginger. The rhubarb and strawberry filling tastes just as good with a traditional crumble topping so feel free to swap it. Serve with a real vanilla ice cream or on chillier evenings a warm custard.